Ingredients:
Organic Cashews, Organic Macadamia Nuts, Organic Honey, Royal Himalayan Pink Crystal Salt.
BPA - free glass packaging
Certified organic
Raw
High in protein
Living Tree Community Foods Organic Milk of Paradise Cashew and Macadamia Butter is created in Berkeley, California from a combination of organic nuts. Starting with cashews, we've added Hawaiian macadamia nuts to create a profoundly rich and delicious combination. The flavors of the nuts are accentuated by our organic Hawaiian Native Forest Honey and pink crystal salt. It is produced slowly, in small batches, to give it a wondrous, creamy texture.
In our proprietary process, we make the butter slowly, over several days.  We slice the nuts and never grind.  This preserves the flavors and properties of the nuts.  We make it frequently, in small batches, so it's always fresh and alive.
Packaged in a BPA-free Glass Jar.
Manufactured in a facility that processes tree nuts.
Country of Origin: USA
DISCLAIMER:- None of the products in this catalog and on our website are intended to diagnose, treat, cure or prevent any illness or disease, nor is it our intention to prescribe any course of therapy. The descriptions in our catalog and on our website are for educational purposes only.
Image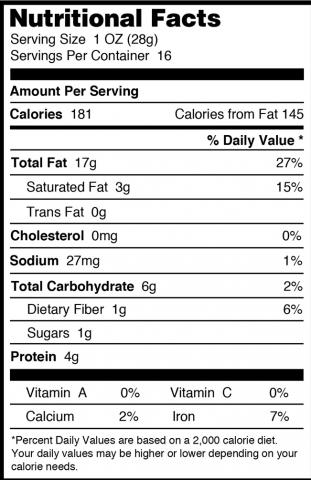 As another reviewer wrote, I can't get enough of this.
I love the Millennial butter however this one is my all time favorite. I use this on any and everything, even a spoon. The flavors just seem to marry each other like no other. Can't get enough.