Ingredients:
Organic Pistachios, Organic Sesame Seeds, Organic Black Sesame Oil, Organic Honey, Pink Himalayan Salt.
BPA - free glass packaging
Certified organic
Raw
Certified kosher
High in protein
Living Tree Community Foods Organic Pistachio Butter is created in Berkeley, California from alive, raw organic pistachios grown in California's Central Valley by family farmers. We add our raw organic Black Sesame Oil, raw organic sesame seeds, organic honey and a dash of Royal Himalayan Pink Crystal Salt. It is produced slowly, in small batches, to give it a wondrous, creamy texture. This delightful and fresh nut butter will nourish your body and your taste buds!
In our proprietary process, we make the pistachio butter slowly, over several days.  We slice the nuts and never grind.  This preserves the flavors and properties of the raw pistachios.  We make it frequently, in small batches, so it's always fresh and alive.
We are pleased that Living Tree Community Foods Organic Pistachio Butter was selected as a Silver Finalist in the 2012 SOFI Awards from the National Association for Specialty Food Trade. A panel of specialty food experts selected Living Tree Community Foods Organic Pistachio Butter as an excellent organic food product.
Packaged in a BPA-free Glass Jar.
Manufactured in a facility that processes tree nuts.
Country of Origin: USA
DISCLAIMER:- The products and claims made about specific products on this website have not been evaluated by the USDA and are not approved to diagnose, treat, cure or prevent disease.
The information provided here is for informational purposes only and is not intended as a substitute for advice from your physician. Before undertaking any change in lifestyle or diet, we urge you to seek the guidance and services of qualified, licensed health professionals.
Pistachios are the most nutrient dense of all nuts Studies show that eating just 2.4 oz. (14 kernels) of pistachios each day could significantly lower LDL or "bad" cholesterol up to 4.9%! The pistachio is full of anti-oxidants, containing more cholesterol-lowering phytosterols than a cup of green tea! These little green powerhouses also have a high potency of gamma-tocopherol, otherwise known as vitamin E. Pistachios also provide high quantities of essential nutrients: thiamin, Vitamin B6, potassium, and lutein (anti-oxidant for eye health). In just one ounce, Pistachios supply 12% of the daily recommended amount of fiber, among the highest fiber provider of all nuts.
In addition to these benefits, the pistachio is a low fat and low calorie food, compared to other nuts, containing just 3 calories each. Furthermore, studies show that "two ounces per day could be incorporated into dietary strategies… without significant changes in body mass index".
Image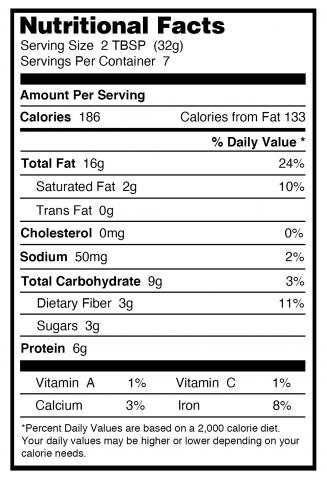 The sheer pleasure to the palate continues with a satiating, full-bodied richness from the healthy fats of both the nut and seed used. This pistachio-enriched, sesame tahini (as this author lovingly refers to it) is over-the-top with the inclusion of a very special ingredient: Living Tree's splendid, raw and Organic Black Sesame Oil extracted from extremely nutritious, unhulled seeds. Expressed through their extraordinarily fabulous, luscious and innovative creation of Pistachio Butter, the Living Tree Community Foods company proves they totally grasp that the combination of mega-nutrition and deliciousness is not merely an option. It's absolutely essential!
Howdy!
I've been meaning to email you and was reminded of it again when I received your latest email.
The chocolate cherry paradise butter that was included for free in our order last month was DELICIOUS!! It inspired me to create something similar using our local, organic blueberries that are available now in NC. And ordering the pistachio butter for the first time was a great idea. Yummy also! Not sure which I like best now, the macadamia or pistachio butter!!
Thanks for offering delicious, healthy food!!

Peace and love for our beautiful Earth,
Karen